Implant retained dentures (Implant Overdentures) have many different designs based on the shape and size of the jaw, number and distribution of implants, and the available space for the teeth.
Compared to traditional dentures, the use of implants can create a significant improvement to the stability and function of the prosthesis.
There can be many styles and designs for Implant Overdentures but we will simplify the categories:
1. SIMPLE POST RETENTION ("clip-on")
These posts (called abutments) are attached to the top of each implant and are the most common of the overdenture designs. There have been many types of posts over the years including ball type, magnets, ERA®, and most recently Locator®. The Locator® abutment has gained popularity due to its ease of use and maintenance.
2. BAR-TYPE RETENTION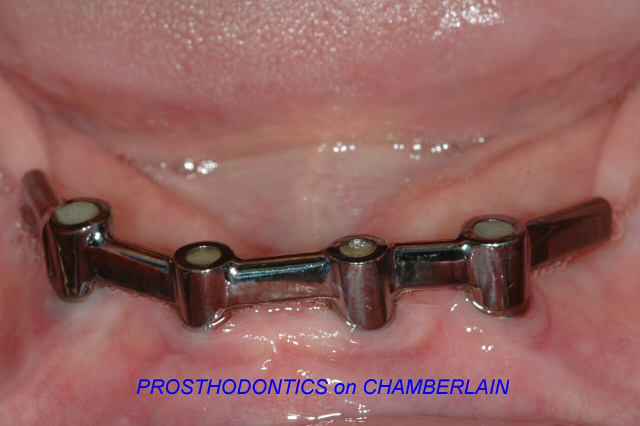 The top of the implants are connected with a structure called a "Bar". The Bar is positoned on the surface of the gingival tissues and is generally few milimetres thick and wide. The size of the bar is determined by the number of implants and shape of the jaw. The material can be metal alloy, titanium, or zirconia.
The Bar provides a means to retain the overdenture. Retention may be provided by friction, clips (metal or plastic), pins.
The Implant-Bar generally provides very good stability for the overdenture (better than the post-type). Maintenance is still fairly simple for cleaning around the bar and gum tissues.
3. OPEN-PALATE DESIGN (UPPER PROSTHESIS)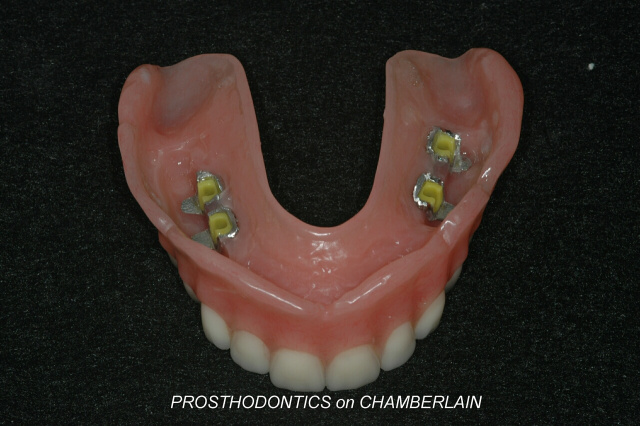 If there enough upper jaw implants, it may be possible to reduce some of palatal coverage of the upper denture. This will provide improved comfort, taste and less gagging effect.